How to configure your Terms & Conditions
How to configure your Terms & Conditions
Updated by William Harper
The Terms button on your widget is designed to link your widget to a Terms & Conditions page that's hosted on your website. In this help article, we'll talk about best practices to set up your Terms & Conditions
Tip: If you'd like an example of some Terms & Conditions, be sure to scroll down to the bottom of this help article!
Host your Terms & Conditions on your website:
Navigate to 'Settings' > 'Account'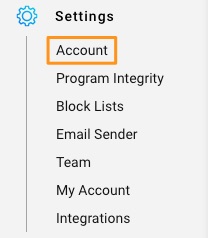 Under 'Terms and Conditions URL', enter your Referral Program's Terms and Conditions are hosted on your website.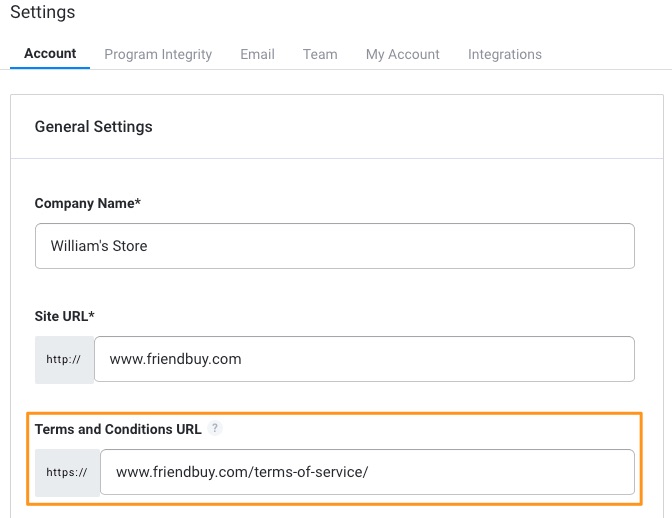 Click 'Save Changes' at the bottom of the page, and the 'Terms' link in your widgets and emails will now be automatically updated and ready to go!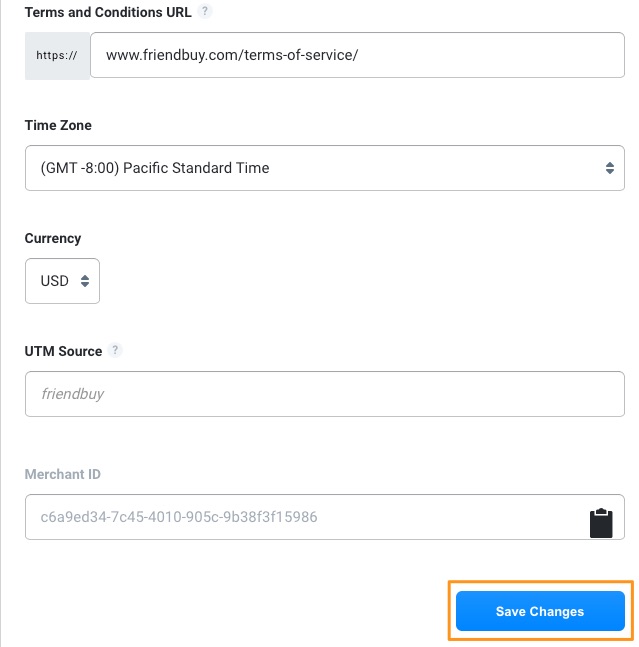 Troubleshooting tip: Be sure to test the new changes take affect. If the new link does not update on the widgets, then open each widget in the builder to save the new widget configuration and then re-publish the campaign.
Sample Terms & Conditions for your Referral Program
The following example is meant to help you create your own Terms & Conditions for your referral program. This is a guide only. We are not lawyers ( phew!), so you will need to craft your own T&Cs to explain how your program works.
Please host your program's Terms & Conditions on your website on a friendly URL such as www.acmewidgets.com/referral-terms.
Terms & Conditions [SAMPLE ONLY]
ACME Refer-a-Friend Program Terms & Conditions
As a Refer-a-Friend member (a "Referrer"), you are subject to ACME's Terms of Use and ACME's Privacy Policy (both available on our website), as well as the following additional Terms & Conditions for ACME's Refer-a-Friend program:
Qualified Referral. A Qualified Referral is defined as a purchase madeat www.ACME.com by a person (a "Referred Customer") who arrives to our website by clicking your Refer-a-Friend program link. You are limited to one Qualified Referral for each Referred Customer; in other words, additional/repeat purchases made by a Referred Customer are not counted as additional Qualified Referrals.
Referred Customer. The Referred Customer and the Referrer cannot be the same person (for example, by using a different email address).
Referral Rewards. For you to earn referral rewards as a Referrer, the Referred Customer must complete an order greater than $25 in total value, minus all fees including taxes, discounts, shipping, returns, chargebacks, fraudulent payments, and/or other 3 rd party fees.
Reward Payments. Rewards are payable in increments of $10. The maximum Qualified Referrals earned per calendar year may be no more than 50 Qualified Referrals. As a Referrer, you are responsible for any and all tax liability resulting from Referral Rewards.
Eligibility. Eligibility is limited to individuals only. ACME's Refer-a-Friend Program cannot be used by businesses for affiliate lead generation as determined in ACME's sole discretion. (Corporations are not people, my friend!)
No Spam. You must comply with all up-to-date "SPAM" laws. For example, emails must be created and distributed in a personal manner and bulk email distribution is strongly discouraged. Any distribution of your referral link that could constitute unsolicited commercial email or "spam" under any applicable law or regulation is expressly prohibited and will be grounds for immediate termination of your account and exclusion from ACME's Refer-a-Friend program.
Right to Close Accounts. ACME reserves the right to close the account(s) of any Referrer and/or Referred Customer and to request proper payment if the Referrer and/or Referred Customer attempts to use the ACME Refer-a-Friend program in a questionable manner or breaches any of these Terms & Conditions or is in violation of any law, statute or governmental regulation.
Right to Cancel Program or Change Terms. ACME reserves the right to cancel the Refer-a-Friend Program or to change these Terms & Conditions at any time in its sole discretion. Any unclaimed referral rewards will be forfeited at that time.
Remember, the above is provided merely as a template to get you started. Your program terms must and should be quite different. Here are some helpful questions to consider as you create your own Terms & Conditions:
Will you have a minimum purchase amount for a Qualified Referral?
Will you offer rewards for subsequent purchases by a Referred Customer?
Will you have a maximum earned amount per year?
Does the Referred Customer have to be a "new" customer – i.e. they've never bought from you before?
Will you disallow referrals to come from within the same household as the Referrer?
Will you restrict Qualified Referrals to purchases completed on your website, or will you accept referrals over the phone or in person?