How to Create a New Code Bank
How to Create a New Code Bank
Updated by William Harper
Overview
If you'd like to reward Advocates for successful referrals or provide Referred Friends with Incentives they can apply toward their first purchase, Friendbuy supports the ability for you to upload a list of codes into a code bank.  A code is pulled from a code bank and is dynamically inserted into a Reward Email when Advocates are eligible for a reward and inserted into a Friend Incentive Email when Referred Friends are eligible for a Friend Incentive. 
Friendbuy supports the following code types:
Coupon Codes - click here to download a template
Gift Cards (eCommerce Store) - click here to download a template
Reward Links (3rd Party Gift Cards/Cash) - click here to download a template
Below is an example of how the codes should be formatted in your .csv or .txt file. 
Note: Please do not include headers in the file. 
Creating a New Code Bank:
Instructions
Step 1
Navigate to  Code Banks
Step 2
Click Create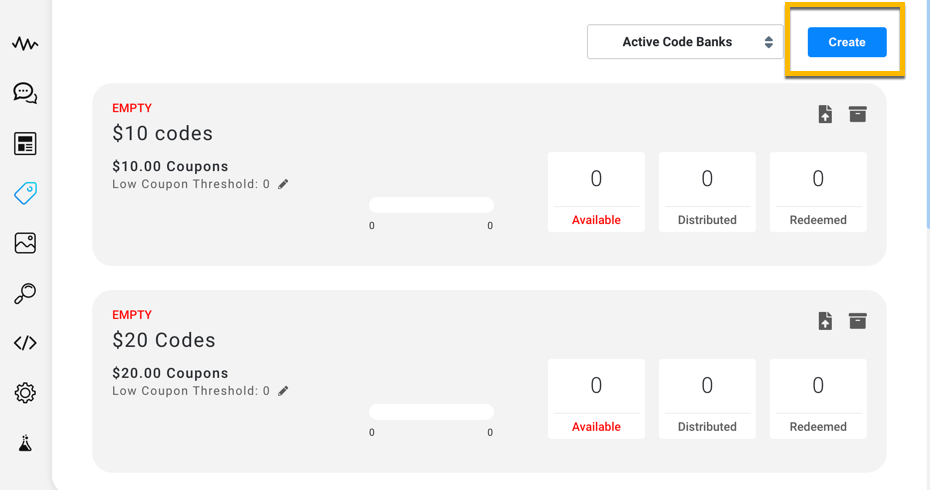 Step 3
Complete the form with the following information: 
Name of the Code Bank
Select Code Bank Type (ex. Coupon or Gift Card)
Code Value (ex. USD, CAD)
Step 4
Click Next Step
Step 5
Upload a .csv or .txt file
Step 6
Set your low code bank notification threshold
Note: Once your code bank reaches a certain amount, a notification email will be sent to the Primary Email Address and Secondary Email Addresses that have been added in your Settings
Step 7 
Click Finish
Note: If Friendbuy detects that duplicate codes exist in another code bank, none of the duplicate codes will be uploaded. 
Click here to learn how to upload codes into an existing code bank.