How to Enable the Tango Card Integration
How to Enable the Tango Card Integration
Updated by Samantha Samuels
How to Enable the Tango Card Integration
Reward Advocates, Referred Friends and Loyalty Members with 3rd party gift cards or cash through Tango Card
*Note: this integration was built by Tango Card
Getting Started
Your Friendbuy Customer Success Manager or Support will introduce you to Jordan Smith (jordan.smith@tangocard.com) to get setup with a Tango Card account
Once you have been introduced to TangoCard, their onboarding team will:

Help build out your campaigns
Invite users
Provide training on the Tango Card portal
Share the Webhook URL needed to apply to your Friendbuy account.

You will fund your Tango Card account. Funding options available here.
Configure Settings in Your Friendbuy Account
In your Friendbuy Account, navigate to Settings > Integrations > Webhooks and Callbacks
Determine the Reward Type You want to Configure and add the Webhook URL that was shared from Tango Card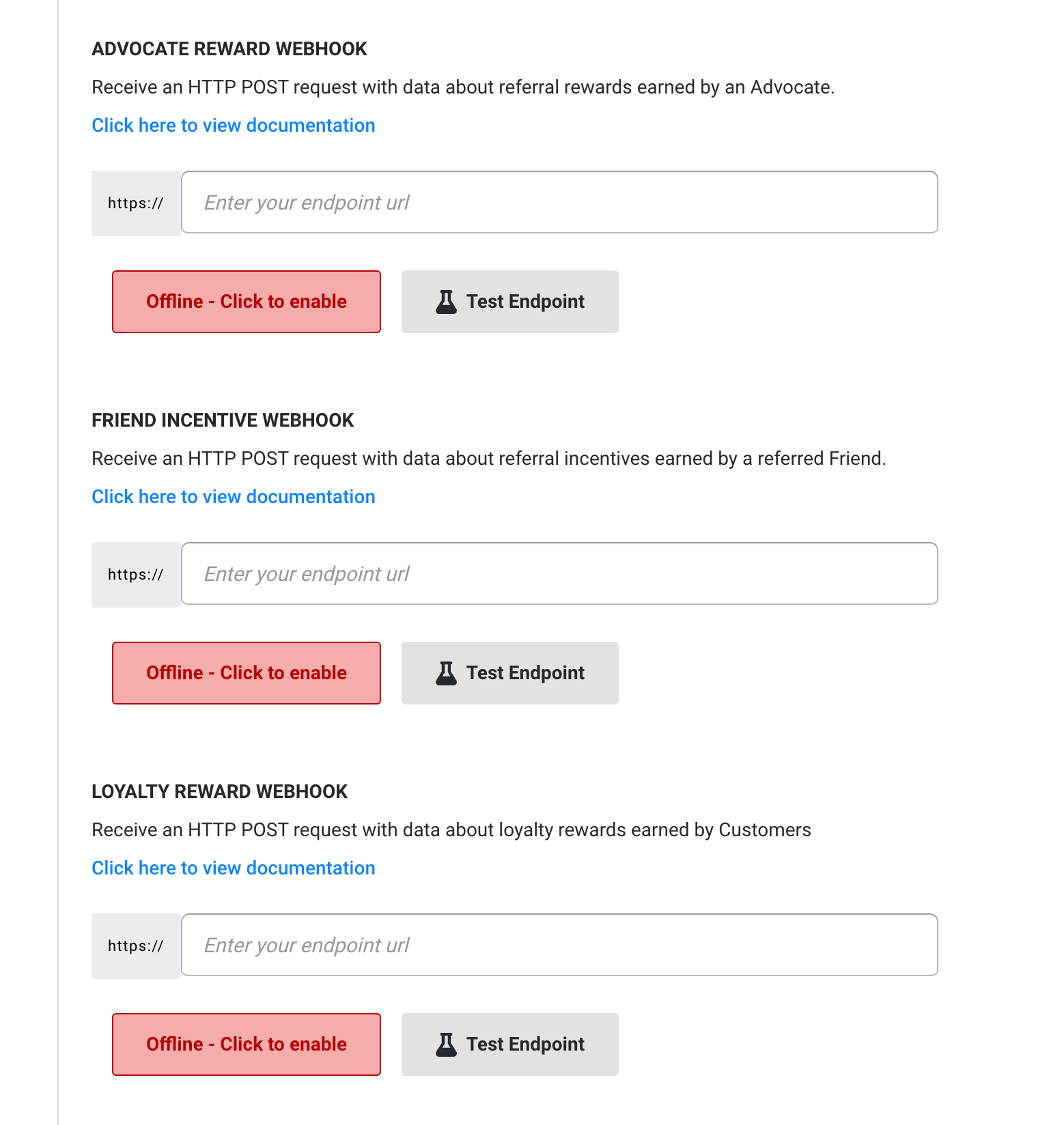 FAQ:
How do I fund a Tango account?
Your account must be funded for orders to be processed. Here is a link to our funding options. Most clients fund via ACH. Should you decide to cancel your partnership with Tango Card, any funds on balance will be returned to you in the manner in which you provided the.
What is the pricing for Tango?
There are no setup fees, platform fees, fulfillment fees or monthly subscription fees associated with Tango. Customers only pay for the face value of the rewards they are sending through the Tango/Friendbuy integration.
How do I see the rewards and countries available in the Tango catalog?
Tango supports over 1,000 brands across more than 80 countries. You can see our entire catalog and filter by reward type and country through this link (click show filters): https://www.tangocard.com/reward-catalog